Landing Page
The landing page may be thought of as the introductory page of a website. The page establishes the main underlaying rationale of the research project. The website wireframe is built on this page. Some of elements on this page are shared on all other pages while others are unique for every page.
Shared Page Elements
Below is a list of shared elements across all pages:
Navigation Bar
Page Cover
Chatting Widget
Footer Hyperlinks
Footer Note
Navigation Bar

The navigation bar has hyperlinks to other resources. Please take your time to explore what is on each page. Whenever you get lost, always consult the Take a Tour button.
Page Cover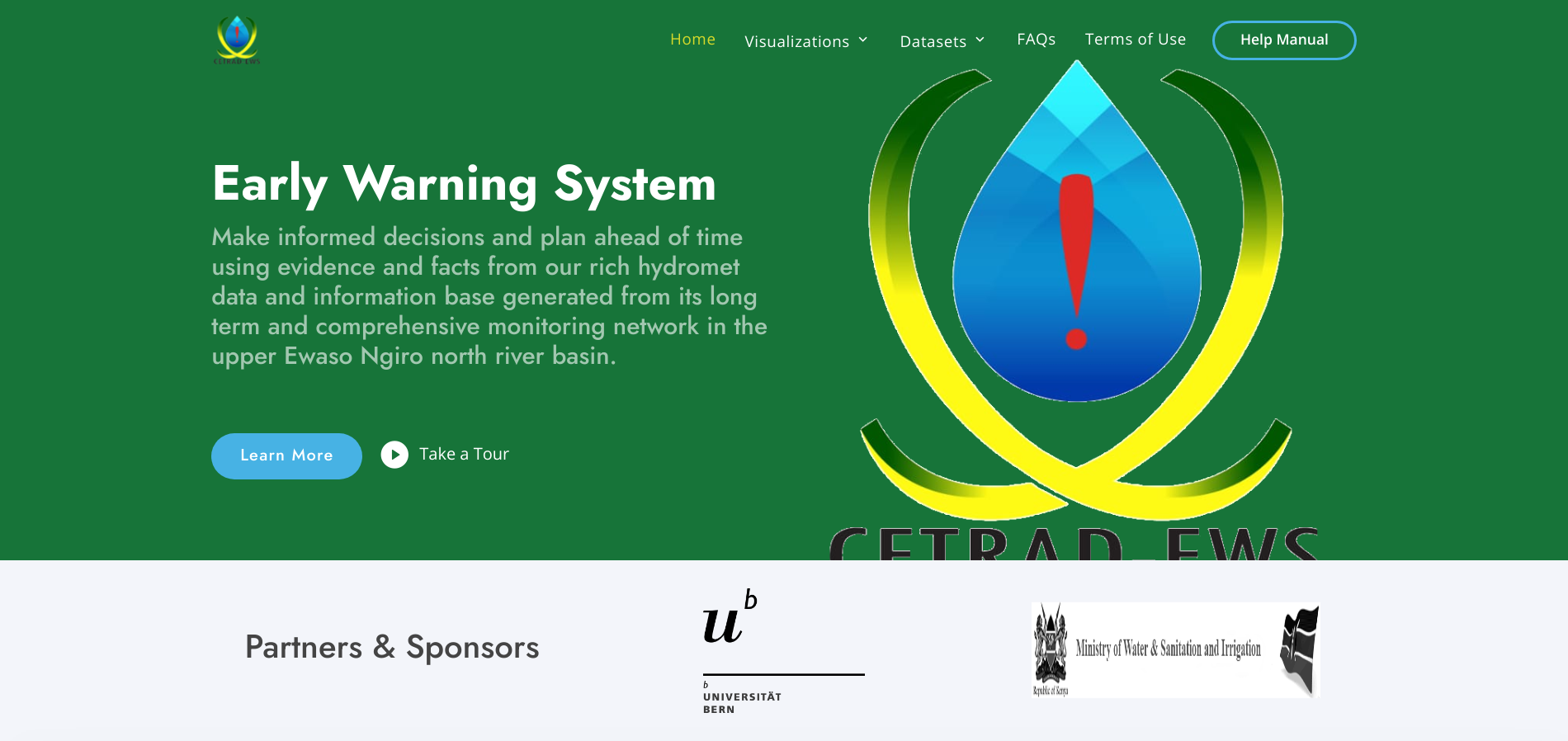 The Learn More and Take a Tour buttons on this cover section are essential for new users. The Learn More opens this ducumentation manual for the user to familiarise themselves with the technical aspects of the interface before use or whenever lost. The Take a Tour button content is unique for every page. This button loads video guide (uploded to YouTube) for that particular page. Visual guide content becomes very signaficant for initial intoductory and time concious trainig. Feel free to explore the Take a Tour button for every page.
Footer Hyperlinks

A bookmark of resources that facilitate easy and faster navigation from a tool to another. This section serves a similar purpose as navigation bar and in addition includes contact information, physical address and social media handles.
Footer Note

A disclaimer of ownership of intellectual property and related resources of the CETRAD-EWS website.
Unique Page Element
Every page of a website is designed tergeting to communicate a set of information and details which together forms page theme. The section of page that aggregate details and information towards building subject for that particular page is referred to as Main Section or Page Body.
For instance, the landing page main section is composed of About Us, Study Area Map and Featured Tools sections. Both About Us and Featured Tools sections are self explanatory while Study Area Map is more technical.
Study Area Map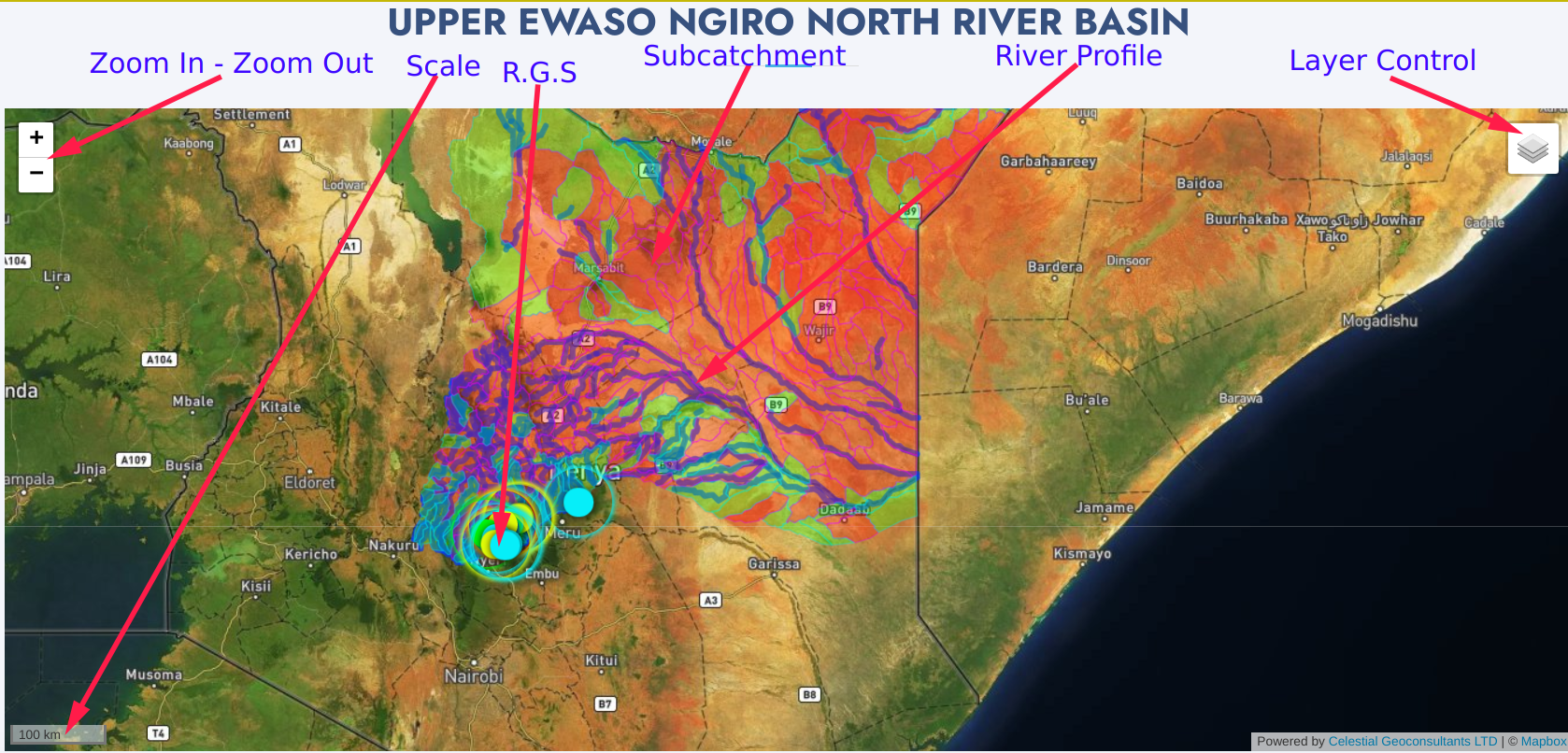 Zoom in - Zoom out. Zoom in (+) enables one to examine smallest details of a subject by increasing map scale. Zoom out (-) enables one to consider the essential points by reducing map scale.
Map Scale denotes the level of detail on map. A large scale map shows a small area in greater detail e.g 1:100. A small scale map shows a larger area in less detail e.g 1:5000. Often, the scale is represented using second digit (100m and 5km resp).
Layer Control is a floating tool on map that enables switching basemaps and turning on/off overlay maps.
Subcatchments is a layer of Water Resource User Association (WRUAs) zones. The green-in-color layers represent Active WRUAs while the red zones represent WRUAs not yet formed.
River Profiles is a layer of river networks serving upper ewaso ngiro river basin WRUAs.
R.G.S are mapped River Gauge Stations comprising our water resource monitoring network in the upper ewaso ngiro river basin. Color-codes have been used to mark water flow level aspect of the river profile at the point of RGS installation.
Red marker denote Reserve Flow Level at that point of the river for the said week.
Green marker denote Normal FLow Level at that point of the river for the said week.
Yellow marker denote Flood FLow Level at that point of the river for the said week.
Cyan marker shows active/inactive RGS not receiving data.
The subcatchment, river profiles and RGS layers are expandable on click to show more details in a popup panel.